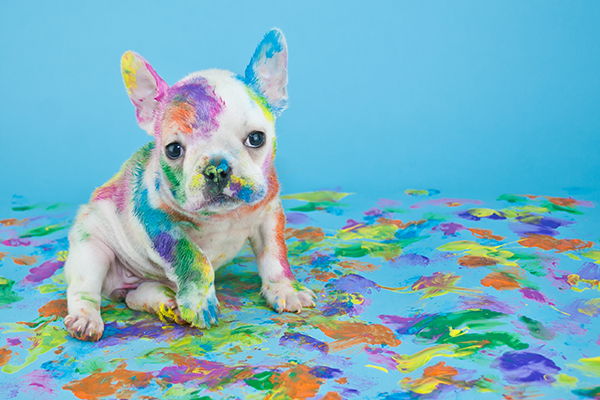 When preparing for a baby in the home, parents often babyproof the house by adding locks on cabinets that contain cleaning products, moving small items to higher spots where a child can't reach and covering electrical outlets.
Like babies, pets can get into things they shouldn't, and pet owners should "petproof" their house to ensure the safety and good health of their pets.
From plants to foods to electronics, there are plenty of everyday objects that could pose a threat to your pets.
Check your plants
Whether you have a home garden, like to decorate with house plants or receive flowers as gifts, it is important to check whether these plants pose a threat to your pet. Finding places in your home your pet cannot reach or getting rid of these plants entirely is important to maintaining the safety of your four-legged friend.
The following common household plants pose a threat to your companions:
Lilies - Toxic to cats
Tulips - Toxic to dogs and cats
Poinsettias - Toxic to dogs and cats
Aloe vera - Toxic to dogs and cats
Oregano - Toxic to dogs and cats
Check out this list of toxic and nontoxic plants by the American Society for the Prevention of Cruelty to Animals (ASPCA), the first humane society to be established in North America and one of the largest in the world.
Be careful sharing food
When sitting down at the table and enjoying a nice family meal, your dog or cat might try to steal some food. It might be tempting to share—they look so cute and deserve a treat!—but many foods that are delicious and safe for humans pose a threat to animals.
Educating yourself about which foods are safe for your furry friend is important before letting them take a bite. Below are some common foods that might be tempting to share but are poisonous to your pet:
Chocolate
Coffee
Grapes
Onions
Avocados
You can find more foods that pose a threat to your pets on this list from the Humane Society of the United States. These lists are not exhaustive, though, and it is important to look up whatever specific food item you want to share with your pet before sharing.
Secure your living room
The living room is probably one of the most-used areas of your house. This also means your pet spends much of its time here. However, there are certain items in your room that can be dangerous for your pet. Be sure to watch out for the following items:
Wires - Pets love to bother exposed wires and cords, so tie up cords or use specially made protectors to protect your pet.
Recliners - Pets can easily get caught in the mechanics that allow your footrest to pop out, so make sure to always check the surrounding area before extending the recliner.
Window screens - Pets looking out an open window are at risk for falling. Be sure to install sturdy window screens to ensure your pet remains inside.
Loose socks - Pets may see these as a potential toy, but they can also pose choking hazard or cause gastrointestinal problems. Pick up your laundry, and keep it out of reach of your pet.
Hair ties/rubber bands - Hair ties are so hard to keep track of, but it is important to keep them away from your pets. Cats love to play with these lightweight "toys" that easily flip around, but they are a choking hazard and can cause terrible problems if ingested. Keep your hair ties in a specific place, and always return them to that same spot.
Hide your cleaning products
Cleaning products in the kitchen, bathroom and anywhere else in the house should be stored up high and completely inaccessible to animals. These household cleaners are toxic if ingested and can cause vomiting and diarrhea, requiring an emergency call to the vet.
Pay particular attention to the following types of cleaners:
Drain cleaners
Concentrated dishwashing chemicals
Oven cleaners
Concentrated toilet cleaners
Check out more information from the Pet Health Network run by IDEXX, a corporation that develops, manufactures and distributes products and services for the animal veterinary, livestock and poultry, and dairy- and water-testing markets.
Don't forget about outside
After pet-proofing the inside of your house, it may seem like your work is done, but it is important to keep hazardous products in your garage and outdoor spaces out of reach of your pets.
Whether your dog is extra curious in the backyard or your cat slips out the front door, there is the possibility that your pet could get into something that poses a real risk to its health. Some common products that are poisonous include:
Wood glue
Antifreeze
Paint
Certain garden plants
See more from the American Veterinary Medical Association, and be sure to pet-proof the outside of your house as thoroughly as the inside.
If your pet gets into something dangerous
If your pet has already been exposed to something harmful in your home, call the ASPCA Animal Poison Control Center hotline at (888) 426-4435. It's available 24/7, 365 days a year. The organization charges a consultation fee.
Then contact your veterinarian, like the Academy Animal Hospital, and arrange to see a veterinarian as soon as possible. Your vet can provide specific advice for your pet's situation.